40 Years of Purposeful Individualized Education
In 40 years, Whittier Scholars have designed nearly 900 majors. Here are some of the most recent.
Scholars Faculty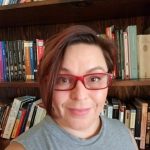 Andrea Rehn
Director of Whittier Scholars Program
Andrea Rehn is an Associate Dean and Professor of English and directs the Digital Liberal Arts Program as well as Whittier Scholars. Her publications include articles on Conrad, Kipling, Austen, and digital pedagogy. Rehn has been the recipient of a National Endowment for the Humanities Summer Institute Fellowship, and she is the Principle Investigator on Andrew W. Mellon Foundation grants totaling $1.45 million to foster digital scholarship and pedagogy.
An avid reader from a young age, Rehn lists Frank Herbert's Dune, Jane Austen's Emma,  and "everything written by Charles Dickens" among her favorite pieces of literature. A lifelong Californian, she completed her English degree from UC Berkeley before journeying to the east coast to complete a PhD in English at Cornell University. Rehn joined the Whittier College faculty in 2007 and has been a member of the Whittier Scholars Council since 2011.
Read more at andrearehn.com or follow her on Twitter @profrehn.
To book an appointment:
(more…)
Whittier Scholars Council
The Whittier Scholars Council is the governing body of the Scholars Program, and meets weekly on Thursdays 12:30-1:20pm in Wardman Hall A. In addition to the Director,  Associate Director, and Coordinator, the Council includes current students and faculty members from each of the divisions of the College. The Council governs the policies and procedures for the Scholars Program. Faculty members generally serve at least one 3-year term beginning in fall, and student members generally serve a single 1-year term beginning in the Spring. Any Scholars student who has successfully defended an Educational Design is eligible for nomination to Council.
2018-19 Council
Faculty & Staff
Andrea Rehn, English, Director, Year 2
Ken Berthel, Modern Languages, Associate Director, Year 1
Joanna Diaz, Program Coordinator, Year 2
Bill Kronholm, Mathematics, Year 3
Cinzia Fissore, Environmental Science, Year 3
Deborah Norden, Political Science, Year 2
Joe Dmohowski, Library, Year 2
Kay Sanders, Education and Child Development, Year 2
Kristin Smirnov, Business, Year 1
Susana Santos, Institutional Research, Year 1
Students
Kate Yeash, '19
Malory Henry, '19
Ken Berthel
Associate Director of Whittier Scholars Program
Kenneth Berthel earned a Ph.D. in Chinese Literature from the University of California, Irvine, in 2010. In addition to teaching in the Whittier Scholars Program, he offers courses on a broad array of topics in Chinese literature, culture, and language. To date, Professor Berthel's research has primarily focused on philosophies of music and language in early pre-modern texts, but his academic interests are eclectic enough to have him engaged in a number of disparate scholarly projects at any given time. He enjoys taking students off campus for cultural experiences, with recent trips to The Pacific Asia Museum, The Japanese American National Museum, The Chinese American Museum, a walking tour of Chinatown Los Angeles, Monterey Park for a dim sum lunch, Rosemead for knife-cut noodles in the Shanxi style, and The Bowers Museum.
Joanna Diaz
Program Coordinator
Joanna Diaz was appointed to the position of Administrative Coordinator to the Whittier Scholars Program in August of 2017. In 2011, She graduated from California State University, Long Beach with a B.A. in Anthropology and Sociology. Prior to her acceptance of her administrative role, Diaz spent four years as a community organizer for immigrant rights and engaged parents to advocate for their children's education. A visual artivist, Diaz is a stringent advocate for social justice through mediums such as film, photography, and folk art. She is excited to help Whittier students pursue their academic passions while also fostering engagement within their communities.
Whittier Scholars Directors
Dick Archer 1978 – 1992
Charles Adams 1992 – 1995
Maurine Behrens 1995 – 1997
Joyce Kaufman 1997 – 2011
Doreen O'Connor-Gomez 2011 – 2017
Andrea Rehn 2017 – present
The Scholars Program: History, Purpose, and Future